Principal's Desk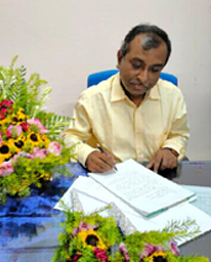 Sewnarayan Rameswar Fatepuria College has been rendering its services for more than five and half decades with best level of satisfaction of students, guardians, alumnis and other stakeholders. With time, it has taken the shape of a robust family constituting innumerable students, teachers and non-teaching employees. Each member of this family is special and progress of each member is very important for us. The Governing Body headed by the hon'ble District Magistrate, Murshidabad is lending immense support to our activities. The donor members of the College are always taking care of all development activities. The nominees of the Government and the University of Kalyani are actively co-operating our all sorts of endeavours. Teachers and non- teaching employees of the College are doing their duties incessantly. Students, the most valuable stakeholders, are encouraging us to do better. They are co-operative, timid, gentle, keen for learning and hard working. Success of the College which is currently noticed before all is inevitably obtained by the united and unidirectional efforts of all the stakeholders. It is to be maintained. As the Principal of the College my first and foremost duty is to ensure that this familial relationship stays intact and promote belongingness within the institution amongst them. Talents and competencies within them are to be extracted in such a manner that many more success stories are composed. Qualitative development is to be focused in every corner of the College. Success has no limit. We have to plan a brighter roadmap for the days to come keeping feet on the ground of reality.

The College has introduced the Undergraduate Curriculum Framework recommended by the National Education Policy 2020 since the commencement of the current academic session 2023-24. It has also introduced a number of add-on/certificate courses since last couple of years. The College has been organizing academic seminars /webinars/workshops quite frequently at state, national and international levels. It also signed MOU with many higher educational institution within the state for faculty exchange, student exchange, cultural exchange, collaborative Academic & sports activities.


Thanks.
Dr. Suhas Roy Principal.
Copyright © SR - Fatepuria College
